What is new in Kinetics Neo Version 2.5
64-bit Software
Now the Kinetics Neo is pure 64-bit software and runs only on 64-bit version of Windows.
Please report us if you still use the old 32-bit Windows.
.KINX2 as new Kinetics Neo Version 2.5 File Format
Kinetics Neo project file version 2.5 has now new file format "KINX2". We have to introduce this new format to support the new features. The Kinetics Neo projects saved in new format "KINX2" cannot be opened in Kinetics Neo version 2.4 or earlier.
We have introduces new SaveAs function. Now it is possible to save file in new format 2.5 as old 2.4 in File – SaveAs dialog. These converted file can be opened in Kinetics Neo 2.4: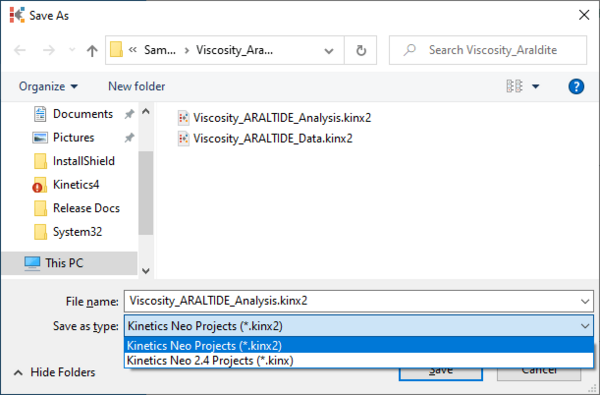 Sum of Peaks as New Y-Axis Mode
New graphic presentation is added to Y-Axis: Sum of Peaks.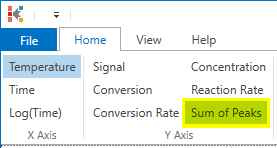 It shows the peak curve for each reaction step and the sum of them as the simulated conversion. This is done for Model based analysis, Simulation and Optimization for model based method.
Sum of Peaks shows each reaction step as the part of the total signal.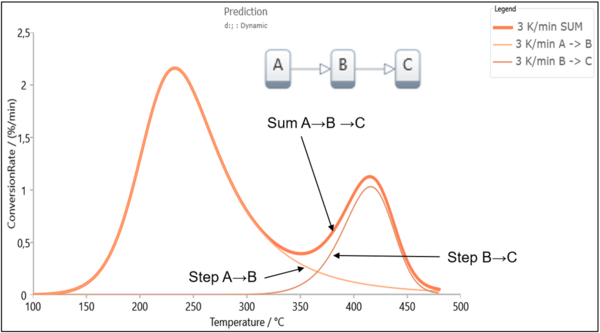 Advantages:
Each step in model based analysis is shown separately.
The sum of all peaks is presented.
Works with several curves.
Peak shape has chemical Arrhenius background .
Individual reactions can be dependent according to kinetic model.
Uses for chemical reactions only.

Usage:
For model based analysis only.
View:
Analysis in model based method,
Predictions for model based method,
Optimization for model based method.
Reference:
ICTAC Kinetics Committee recommendations for analysis of multi-step kinetics, Thermochimica Acta, 2020
New Adiabatic24 (TD24 or TMR24) Prediction
Adiabatic predictions are the predictions with pre-defined time to maximum reaction rate (e.g. 24 hours). Also known in literature as TD24 or TMR24.
Adiabatic predictions are useful if the measurements are of type DSC or ARC.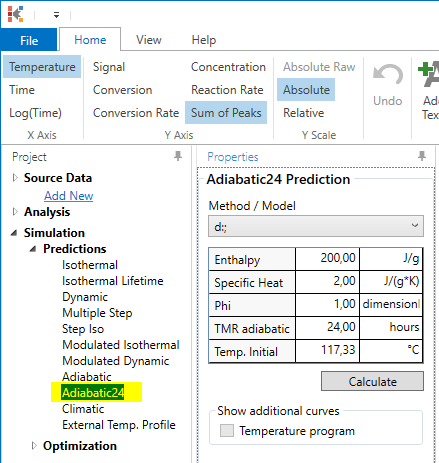 Advantages:
This is the most important criteria of safety and it is necessary for estimation of thermal risks in the chemical industry.
Usage:
For both model free and model based analysis.
View:
Predictions of the signal, conversion, conversion rate, concentration and reaction rate.
New Prediction: "External Temperature Profile" (or "User Defined")
It is possible now to provide an external text file with user-defined temperature program, which includes time and temperature columns. Temperature must be in the first column and time in the second column. This file will be used to create prediction. File should be ASCII or CSV.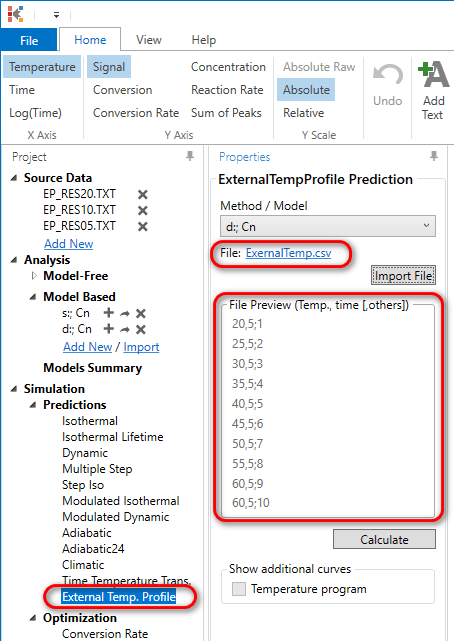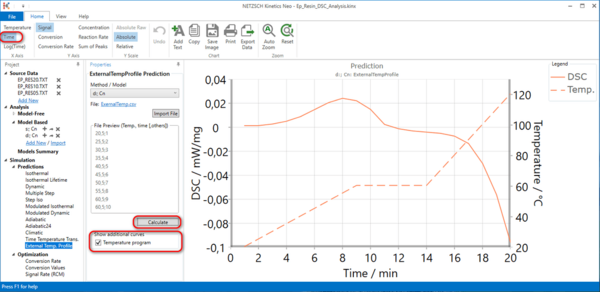 New Prediction of Material Behavior under Fire Conditions
This is a fast method for determination of the material behavior under fire conditions based on the new External Temperature Profile prediction.
The predictions for external profiles is useful for some special cases where the external profiles are already created. For example in the case of fire the temperature increase is well known and can be stored as the preset in the external file for installation. Here is the example of using preset for fire curve for oil as the external temperature file: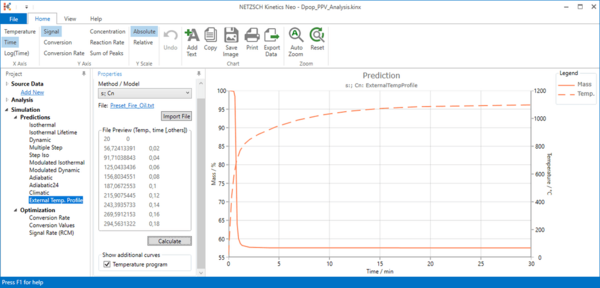 Kinetics Neo 2.5 is delivered with the following fire presets:
| | |
| --- | --- |
| Preset_Fire_Standard_Cellulose.txt | standard fire of celllose |
| Preset_Fire_Oil.txt | fire in oil refining or petroleum |
| Presets_Fire_Smoulding.txt | slow smoulding in leak of oxyden |
| Preset_Fire_External.tx | see references |
References
ISO 834 Fire Resistance Tests – Elements of Building Construction: ISO standard – 1975.
EN 1363 Fire Resistance Tests: Part 1 "General requirements" and part 2 "Alternative and additional procedures", CEN 1999.
New model free method according to Vyazovkin
You, our customers, ask very often to include this additional model free method into the Kinetics Neo. Therefore, it was decided to implement it.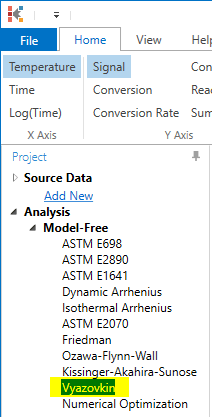 In this method the following function must be minimized:


The results for standard Kinetics Neo sample TGA_Burnout/TG_burn_Data.kinx are: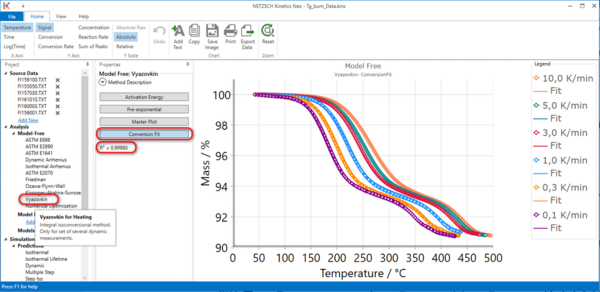 References:
Sergey Vyazovkin and David Dollimore, Linear and Nonlinear Procedures in Isoconversional Computations of the Activation Energy of Nonisothermal Reactions in Solids J. Chem. Inf. Comput. Sci. 1996, 36, 1, doi.org/10.1021/ci950062m
Sergey Vyazovkin, Alan K. Burnham, José M. Criado, Luis A. Pérez-Maqueda, Crisan Popescu, Nicolas Sbirrazzuoli, ICTAC Kinetics Committee recommendations for performing kinetic computations on thermal analysis data, Thermochimica Acta 520 (2011) 1-19,
New Analysis of Rheologic Data
This functionality is necessary for kinetics analysis and predictions for rheometer data measured by NETZSCH Kinexus and similar instruments. This new feature is also implemented because of many customer requests.
These analysis and predictions works for the following data types:
Viscosity,
Rheometry,
Ion viscosity in DEA.
You can use the new standard sample Viscosity_Araldite/Viscosity_Araldite_Data.kinx2: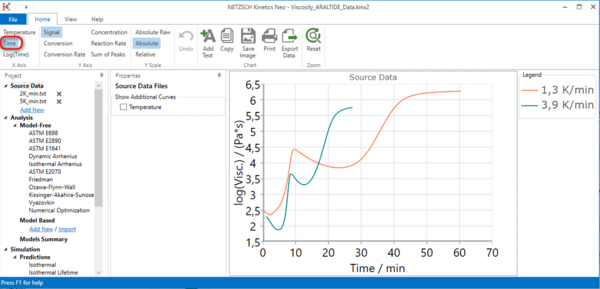 Two step consequentive model A->B->C are used for the analysis: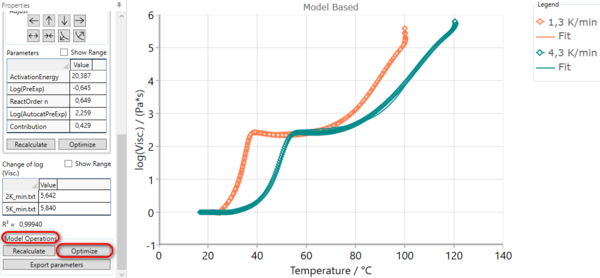 Simulated degree of conversion for different heating rates: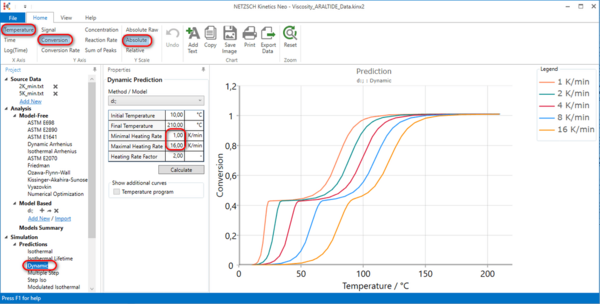 Simulated viscoity for different heating rates: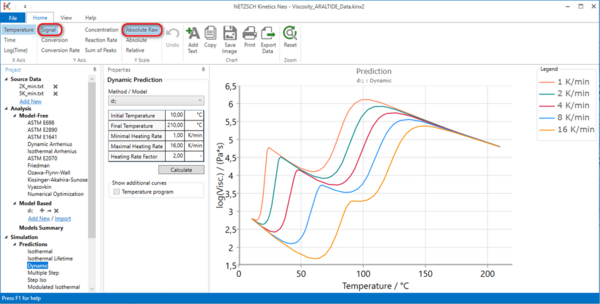 New Prediction of Viscosity
We have a new feature in version 2.5: prediction of viscosity values of signal. For this purpose we have added a new scale for the Y axis: "Absolute Raw":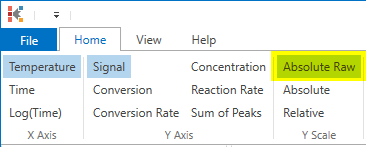 Usage:
For both model free and model based analysis.
View:
Analysis – model free and model based,
Predictions,
Optimization.
Data Type:
Viscosity,
Rheometry,
Ion viscosity in DEA.
The standard sample DEA_Ep_Resin/DEA_Ep_Resin_Analysis.kinx can be used. By applying the model based analysis the experimental and simulated viscosity are shown: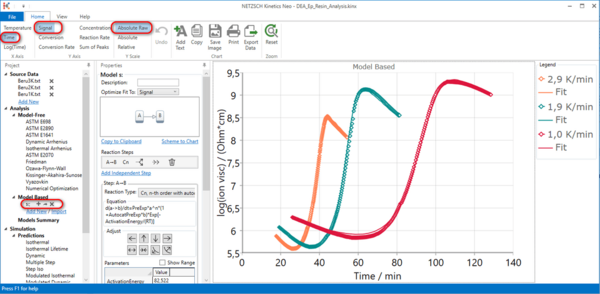 Result of the prediction contains temperature program and simulated signal. Here the signal unit is logarithm of lon Viscosity.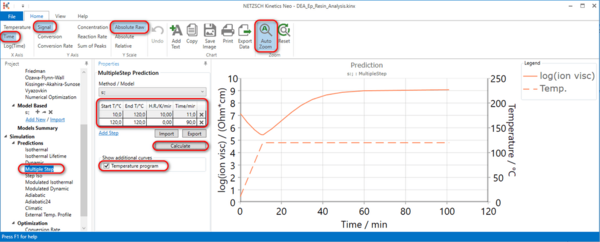 New Online Web Services for Subscriptions and Software Downloads
Kinetics Neo since version 2.5 will use the online Subscriptions and Downloads services. This information is shown on the right side inside a new "About / Downloads" panel in the File menu.
The online subscriptions service can be switched OFF and ON by clicking on the "Use Online Services" checkbox in the top right corner of the panel. Switching online service to OFF may be useful if you use Kinetics Neo on the computer which is not connected to the Internet.
If the online subscriptions services are switched ON and the computer is connected to the internet the following window will be shown (example):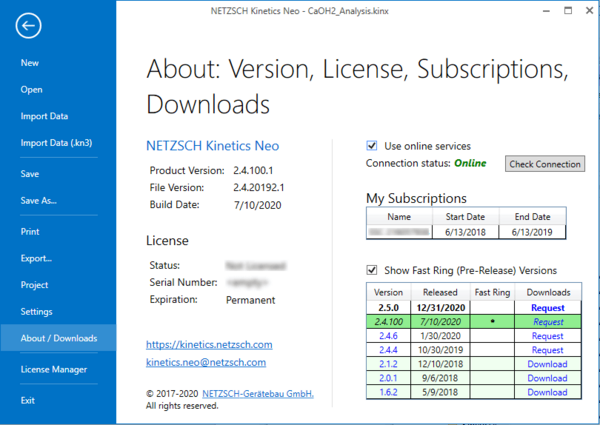 Now it is possible to check your Kinetics Neo Subscriptions data. For example, in the picture above in the middle of the right column you see that the subscription is expired in June 13, 2019.
It is now also possible to see which Kinetics Neo software versions are available to download for your subscription(s) in the table on the bottom of the right column. All software versions with the word "Download" in the "Downloads" column are including in your subscription(s) and may be immediately downloaded.
If the Downloads column contains "Request" for some versions that means that these versions were released after your subscriptions was expired. By clicking on "Request" you will be forwarded to the "Request Kinetics Neo Support Subscription" web page of the Kinetics Neo web site.
In our sample case the currently installed version is 2.4.100.1 (field "Product Version" on the top left). The current version is also marked as green row in the Versions table.
The online subscription services also check in every software start for the new released Kinetics Neo version. If it is found then you will be informed about it with the following message: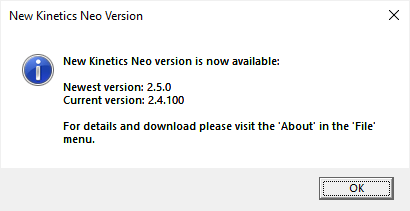 Data Privacy: What Data Are Sent From My Computer To Web Services?
In order to get your Subscriptions and Downloads for your installed Kinetics Neo few data are sent from your PC to our Web Services. These is:
Kinetics Neo Serial Number

We need this for the requesting the details of your Support Subscription.
No any other data are sent.